| | | |
| --- | --- | --- |
| | | |
NSF Wire Shelving Racks Units
A wide selection of heavy duty shelving and Racks solution (Shelves for Storage), These top shelf/Shelving rack is excellent for storage and organization in a restaurant, food shelf, hospital, grocery store, home (closet. kitchen, bathroom and garage), hotels or office and any where space is an issue an organization is a must, our NSF Shelves & racks comes in different sizes to fit anywhere you have space you want to fill in. Search our shelving by dimension to find the perfect match for the shelf you are looking for.
Select from Chrome shelving, Stainless Finish, NSF steel shelves or Epoxy shelves finish for self storage with or without wheels, add more shelves to most shelving units as you desire. Our shelves with wheels gives you the ability to move it from one place to another, they also have brakes on the back 2 wheels to keep it in place.
Our selections of racks and racks accessories:
commercial wire shelving on wheels (you can add wheels to all of our shelves, you can use 3" or 4" wheels)
Alera wire shelving wheels
wall mounted wire shelving
extra shelves with different sizes
Discount Home Office Wire shelving Racks Frequently Asked Questions:
>> Where can i use your wire shelves? is it OK to be used in restaurants and around food?
There are unlimited places and uses for these wire shelves, due to there sizes and capability to carry weights you can use anywhere in your home to provide organization like in your closet as a closet organizer, in your kitchen, in your living area as an entertainment center or as a book shelf and best of all in you garage to keep every thing neet and in place. All NSF shelving are approved to be around food by National Sanitation Foundation.

36 inch (3 feet) Shelf Units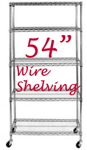 54 inch Shelving Units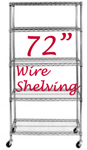 72 inch (6 feet) Racks Unit

NSF Wire Shelving Accessories
---