Protect the Things You Can't Afford to Lose!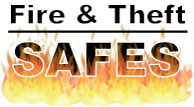 Fire Fyter Safes, manufactured at Center Manufacturing Company, proudly traces its roots back more than 100 years. Our business then, and our business now is manufacturing fire resistant safes. All of our safes have been UL certified to withstand 1700oF for 1 Hour and have been certified by UL to be protected from impact.
Our Proud workforce and modern facility are centrally located in Bellevue, Ohio, abotu 50 miles west of Cleveland, Ohio. All of our Fire Fyter safes are made in the U.S.A. using all steel construction. Each safe is crafted to exceed our customer's expectations.
When you want to protect the things you can't afford to lose, there's only one name to trust.......Fire Fyter!